Site Content:
Travel / Directions
Map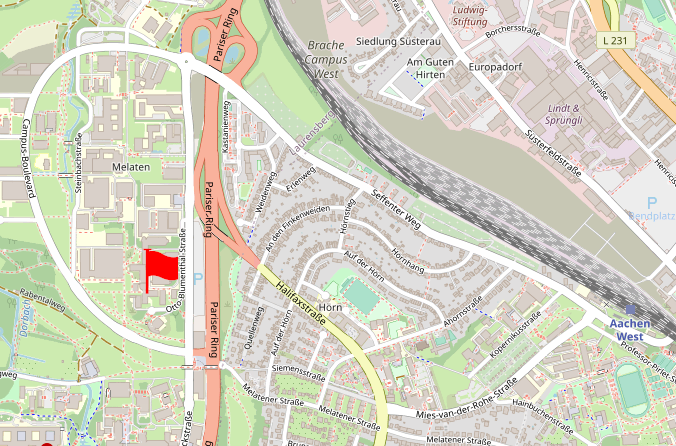 Get directions on Open Street Maps
Travel by car
When traveling via freeway ("Autobahn"), take the A4 towards Heerlen (NL) from the Aachen interchange ("Autobahnkreuz Aachen", crossing of A4 and A44). Leave the freeway via the exit "Aachen-Laurensberg" and take the expressway towards Aachen-Innenstadt. Follow direction signs to "RWTH Melaten" through a short tunnel. When leaving the tunnel, take the first exit on the right hand side. Go straight ahead through the round about onto "Forckenbeckstraße". On the right hand side the dead-end street "Otto-Bluhmenthal-Straße" will lead to the Physikzentrum. Please contact our secretary's office for a parking permit.
Travel by train
Aachen main station (Aachen Hbf) is well frequented by the ICE3 Frankfurt-Brussels and the Thalys Cologne-Paris. Additionally, there are local trains to many destinations including Cologne and Düsseldorf. Details and tickets are available from the webpage of the Deutsche Bahn
From the main station, take the bus 3A to the stop "Campus Melaten" or "Stiewistraße". Also, taxis wait on the right hand side when leaving the main station via the main entrance.
Travel by aircraft
Aachen is near the airports Düsseldorf and Cologne-Bonn.
From Düsseldorf there is a direct train to Aachen, departing from the airport train station, which can be reached via the airport's "SkyTrain". The second airport train station (below ground level) is frequented by local trains to Düsseldorf main station from where you can take a train to Aachen as well.
From Cologne-Bonn, you can take a train to Cologne main station, from where you can take a connecting train to Aachen.
More information can be found in the section Travel by train
Travel by bus (from Aachen)
The bus stops "Campus Melaten" and "Stiewistraße" are next to the Physikzentrum. They are frequented by the bus lines 3A/B, 12, 22, 23, 33, 70, 73, 80, 103 and 173.
A connection from a stop near your location can be found on the website of aseag.